Joshua Willis' "ARCHBARROW"
The Railyard Art Committee is pleased to announce a new sculpture installation in the Railyard Park by Albuquerque artist Joshua Willis. Archbarrow was installed in early May 2017, to coincide with the spring planting season in the park's community gardens. The 14' tall arch an entrance to the garden area.
Willis sourced more than a dozen used wheelbarrows through a Craigslist ad, and each one holds its own special patina and history.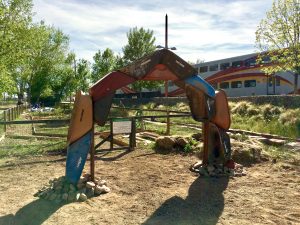 The modular sculpture draws on the utilitarian and community-enhancing nature inherent to the wheelbarrow as a personal agricultural tool. Visitors to the sculpture are welcomed into the garden through the simple act of walking through the archway.
Joshua R. Willis is a mixed media artist integrating materials such as textiles, metal, paint and wood. The resulting compositions explore properties of balance, harmony and diversity found in healthy landscapes. He received his BFA from the University of New Mexico and studied on a merit based program at The Glasgow School of Art and Architecture in Scotland. Willis has shown extensively in his native home of New Mexico and has been exhibited nationally at galleries such as Ferrin Contemporary in Massachusetts and the Lincoln Center in Colorado. More on Willis here https://www.jwillisart.com/resume/.