Izzy moved to Santa Fe in 2003 from Los Angeles, trading in a 10-year career in public relations and marketing for a pair of Felco clippers.  She has been working on and off in landscape maintenance and installation ever since, with pit stops in property management and medical cannabis production.  Izzy came to the Conservancy as a volunteer in early 2021 when, looking for a chance to work outside and give back to the community, she joined both Yardmasters and the Horticulture Committee.  An avid hiker and occasional paddle boarder, Izzy also truly believes she will one day create the perfect playlist and train her cat to stay off the kitchen counters.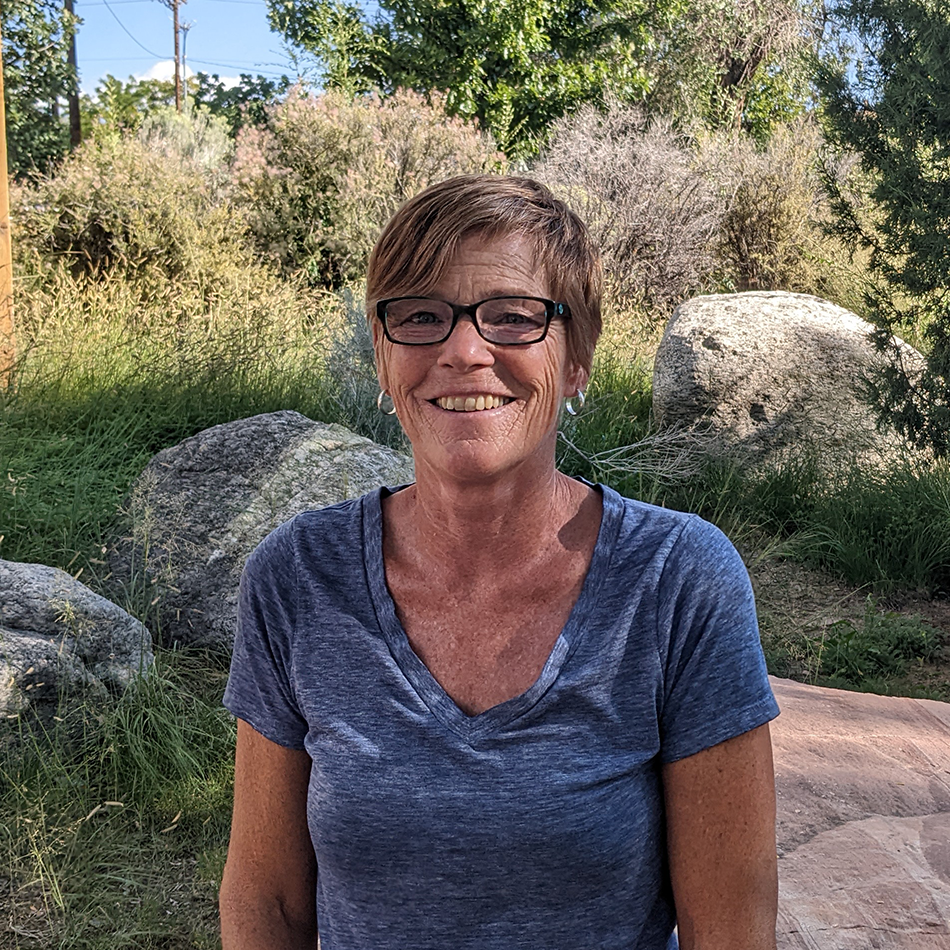 COREY PRITTS
Director of Marketing and Communications
corey@railyardpark.org
Raised on a farm in rural Pennsylvania, Corey enjoyed exploring nature from an early age and developed a passion for gardening and conservation. After high school, he moved to San Diego, CA to pursue a career as a Multimedia Designer, enrolling at San Diego Mesa College and graduating with an Associates degree in Multimedia Design. He started his career as an intern with the University of California-San Diego's PoNG (Power or Neuro Gaming) Center, where he led a team of five interns. His leadership skills and talent as a designer/animator led to a job developing graphics, animations and videos for BrainLeap Technologies, a start-up at UCSD that creates video games for children with autism and ADHD.
Corey first discovered New Mexico in early 2020 while visiting his brother. A two-week visit turned into a permanent move, as Corey loved the beautiful scenery and slower pace. He also developed a close group of friends that still goes on backpacking adventures with to this day.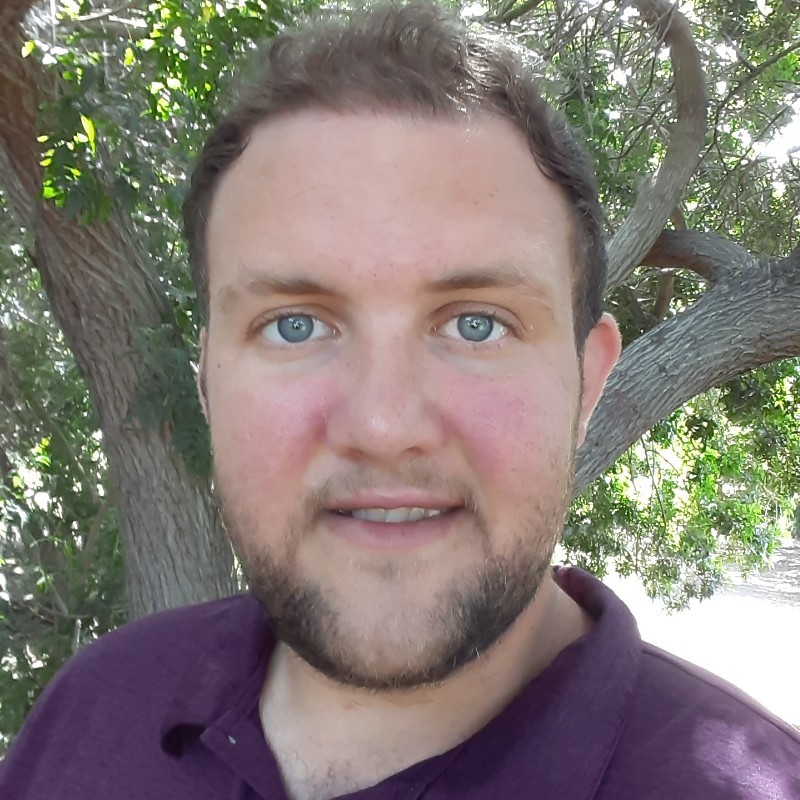 Peggyjoy was born here in Santa Fe and raised between South Santa Fe county and a lakeside suburb of Chicago. Getting the best of both worlds- southwest desert scapes and the lakes and ravines of the midwest, her excitement and reverence for nature and wildlife has been fostered from a young age.  This was furthered when she went to college in the beautiful Northwest, earning a B.A. in Environmental Science from Willamette University.  
Throughout her personal and professional endeavors, Peggyjoy has worked and volunteered with various environmental and renewable energy organizations and companies. She has also always found joy and purpose in working with children and students. And throughout it all has found ways to incorporate art and artistic ventures into her life. So when the opportunity to work with the Railyard Park Conservancy was presented, it was a serendipitous and beautiful melding of passion and purpose.  And all the while fulfilling a desire to connect more deeply with her hometown community.  
When not immersing herself at the Railyard Park, she can most likely be found in her own backyard! Exploring individual pursuits, personal favorites being honing the art of gardening and permaculture and reading in the sun. Or her all time favorite pastime of spending quality time with loved ones- grilling year round for friends and family or pulling out a game for game night!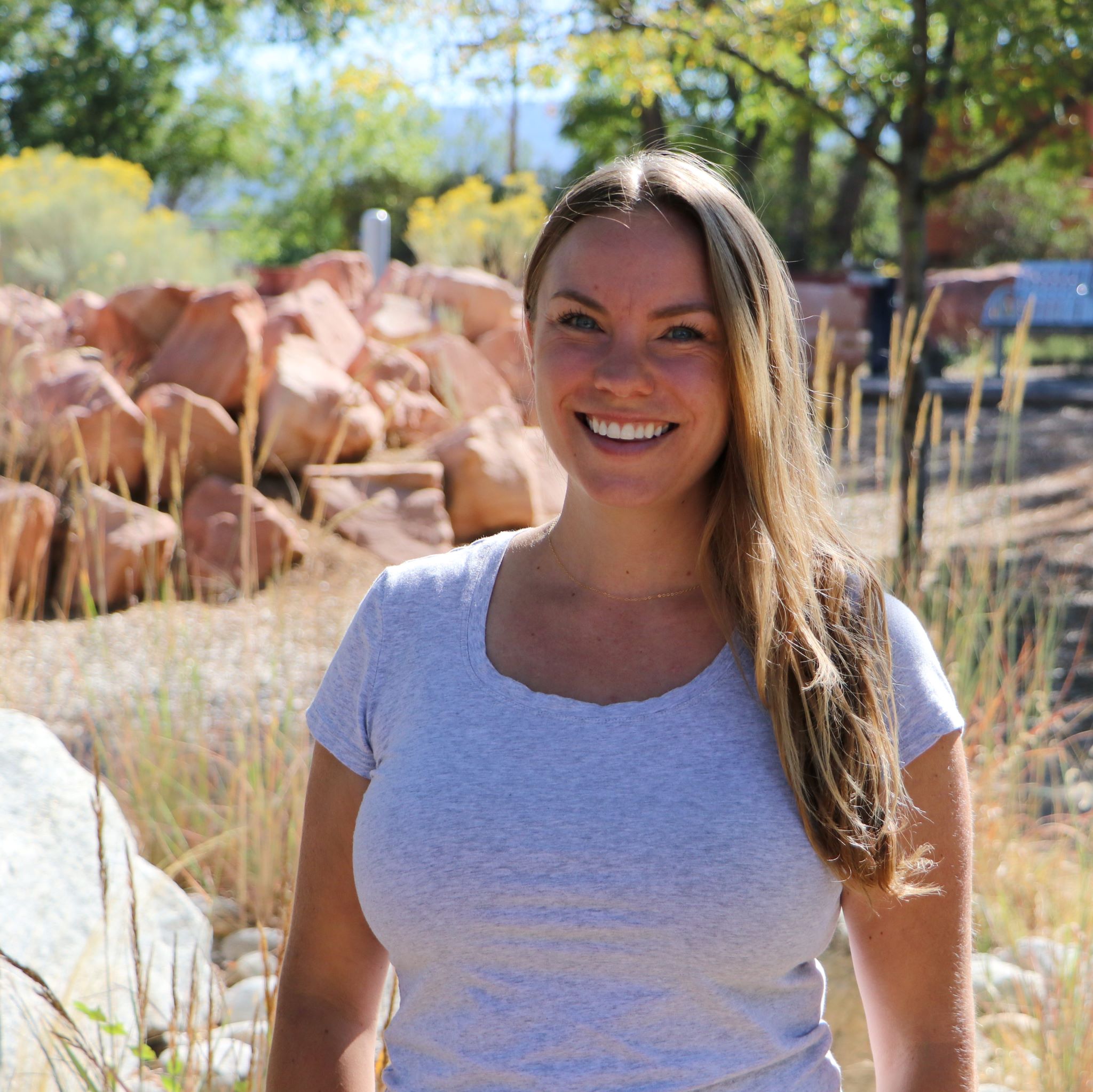 Being an early childhood educator and someone who loves nature, Juliet appreciates opportunities to work with both young children and colleagues to bring the outside in and explore the outside within the boundaries of a play area and outside the fence, going on walking and bus field trips to connect with natural environments. Growing up in rural England, her childhood was all about the outdoors!
Early childhood education has been a fulfilling career for Juliet for many years, mostly here in New Mexico. More recently, she has shifted gears to focus on what she truly loves to do the most, being connected to the natural world, and to partner with others, children, educators and families to enjoy all that nature has to offer. Juliet believes in a strong, capable and competent image of the child and of the family, and views nature as being one of children's most important teachers.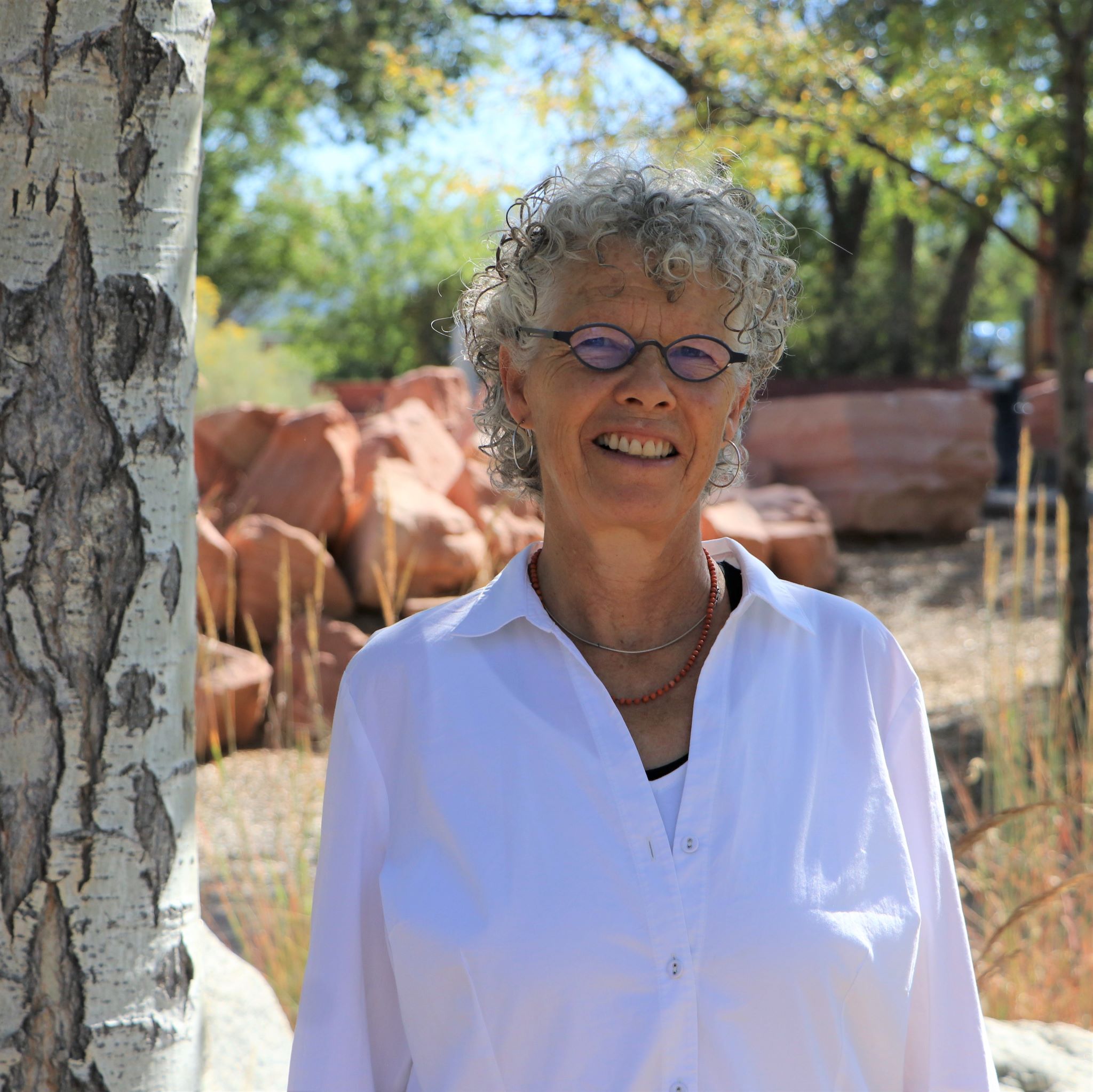 Jennifer Jenkins (Chair) Upon completion of her education in International Business at the University of Texas at Austin, Jennifer embarked on careers in mortgage finance and real estate development. Jennifer is a founding Principal of JenkinsGavin, Inc., a land use consulting and project management firm established in Santa Fe in 2006. In addition to her role with the Railyard Park Conservancy, Jennifer is on the Board of the Regional Development Corporation, a regional economic development nonprofit serving northern New Mexico.
Max Myers (Treasurer) is Executive Vice President of New Mexico Bank and Trust Santa Fe branch. He is a graduate of the UNM Anderson School of Management.
Anne Nelson (Secretary) is a Landscape Architect whose has practiced in New Mexico since 1980. For the last 20 years she has collaborated with early education communities around the country, working together to create outdoor play/learning environments that maximize children's contact with nature. "Earthworks", the outdoor component of the Santa Fe Children's Museum, was the project that shifted her focus in this direction.
Lynn Grimes is a retired Santa Fe Public School teacher and visual artist. She believes that engagement with the natural world is the best inspiration for learning, creating and connecting to place. She lives off the grid in southern Santa Fe County where she engages with the surrounding landscape on a daily basis.
Priscilla Shannon Gutierrez is a recently retired educator from the New Mexico School for the Deaf.  She is also a writer and historian who enjoys sharing what she learns with others.  For the past 3 decades, she has been actively involved in educational issues that focus on the development of the whole child, the linguistic rights of multicultural students, and their access to a meaningful curriculum in school programs.
Molly Mehaffy was a principle partner in a Santa Fe landscape design/build firm for many years and served as a consultant in the Railyard Park's design. She has a degree in Landscape Architecture from UC Berkeley.
EMERITUS BOARD MEMBERS
David Barker is the President of Barker Realty, LLC, whose offices are in the Historic Gross Kelly Warehouse located in the Railyards. Over the last 30 years, he has been involved in a wide range of residential and commercial transactions, leasing, development and property management. A fourth generation Santa Fean, Mr. Barker collaborates with various charities and business associations that foster economic growth and promote all that our City Different has to offer.
Kenneth Francis is an Architect and Landscape Architect and is the founding partner and principle of Surroundings design studio in Santa Fe since 2008. Kenneth has 21 years combined architecture and landscape experience and has presented on the topic of green infrastructure at multiple conferences, including the 2014 ASLA National Convention.
Jeff Mahan has 30 years of executive-level experience in the hospitality industry, launching and operating award-winning luxury hotels. Jeff is also the General Manager and a partner in the locally owned Santa Fe Sage Inn. Mahan has served as President and Chair-Emeritus of the New Mexico Lodging Association, President of the Santa Fe Lodgers Association, the American Lodging Association Board of Directors, and currently sits on the Board of Advisors of New Mexico State University School of Hotel, Restaurant, and Tourism Management. He received a Bachelors Degree in Accounting from New Mexico State University and currently resides in Santa Fe, NM with his wife Paula; they have two sons.
Sarah Rivera is a yardmaster volunteer, a skilled writer and the mother of three.
Suby Bowden is an Architect and Urban Planner; she has been a leader in the Santa Fe Railyard project for 24 years. Her company Suby Bowden + Associates has designed over 200 constructed projects, receiving over 28 National and Local Awards in the last decade.
Faith Okuma is the Principal of Surroundings, a landscape architecture firm based in Santa Fe. She has many years of landscape design experience in New Mexico.
M. Carlota Baca has deep roots in New Mexico and has enjoyed a long career as a consultant specializing in philanthropic and non-profit organizations, including the Santa Fe Community Foundation, Santa Fe Pro Musica, and the Museum of New Mexico Foundation.
Ann Bitter is former Chief Operating Officer of Walker Art Center in Minneapolis, Minnesota, where she oversaw the construction of the $125 million expansion of this contemporary art center. She is currently a nonprofit consultant with a national practice focusing on strategic planning and board governance.
Peter Brill is the founder and owner of Sarcon Construction, which has provided construction services and consulting for many community-based institutions including St. Johns College and Warehouse 21 Teen Arts Center.
Anna Lucia Carlgren has a marketing management background and has been involved with numerous Santa Fe volunteer organizations.
Linda Churchill has actively participated in Santa Fe arts, community endeavors, and gardening for over twenty years. She is a docent and volunteer with the Santa Fe Botanical Gardens and a member of the Semi-Arid Guild, and co-owns Green Forward LLC, a Santa Fe landscaping firm.
Ellyn Feldman is a co-founder of the Santa Fe Children's Museum and was a teacher for close to 20 years. She brings experience from several Santa Fe community programs and serves on several non-profit boards.
Debra Garcia y Griego has a seventeen year background in arts administration that includes experience with both visual and performing arts. Currently, she is the Senior Planner for the City of Santa Fe Arts Commission overseeing the grant-making program as well as the 2% for public art program. In this capacity, she works closely with a variety of nonprofit arts organizations as well as with numerous public artists, both locally and nationally.
Thomas M. Hnasko is an environmental attorney and a partner in the law firm of Hinkle, Hensley, Shanor & Martin.
Rowan Ogden is a communication specialist and graphic designer. He has served as the creative director for an ecological engineering firm for the past four years.
Carmella Padilla, a Santa Fe native, is an award-winning journalist and author who has written extensively about Hispano art, culture and history in New Mexico. Her work has been published across the West.
Jenny Parks is the President and CEO of the New Mexico Community Foundation. Prior to that, Jenny served as the New Mexico State Director for The Trust for Public Land (TPL). Before joining TPL, Jenny worked for six years as a real estate attorney and for three years as a commercial real estate developer in Austin, Texas.
Cara Scarola is a graduate of the University of Oregon's Interior Architecture (M.Iarc.) program and Lewis & Clark College (B.A.). Cara has worked for architecture and interior architecture firms in both the Northwest and Southwest. In December of 2009, Cara began Ore Studios, an interior design firm with offices in Santa Fe and Providence, Rhode Island. Ore Studios works on both residential and commercial projects from coast to coast, with a particular emphasis on sustainable design.
Susan Herrera has served as Chief Executive Officer of the LANL Foundation since 2008. Susan served in Washington, D.C. as a legislative assistant and was the director of the Congressional Hispanic Caucus before relocating to New Mexico and transferring her fundraising and management skills, honed at the national level, to local initiatives and nonprofit organizations. Susan also served as president of the New Mexico Association of Grantmakers, a state-wide organization dedicated to improving philanthropy.
Gayla Bechtol is an architect in Santa Fe and principal of Gayla Bechtol Architects. She has been involved in the Railyard since 1996 when she spearheaded the Regional/Urban Design Assistance Team (R/UDAT ) of the American Institute of Architects for the Railyard.
Marc Beyeler is a conservation consultant in California and the western United States, and was formerly a senior executive with the Trust for Public Land.
Courtney Carswell was raised in Santa Fe and is the owner of La Choza (in the Railyard District) and The Shed Restaurants, popular eateries for locals and tourists alike.
Kyle S. Harwood is an attorney and water resources professional who represents private and public clients in the field of New Mexico land and water law, regulation and policy issues. He regularly lectures on land use and water law, and recently published a chapter on water conservation in the 2011 Resource for the Future series book titled 'Water Policy in New Mexico'. He earned his Bachelor of Science from Cornell University, an M.P.A. degree in water resources from the University of New Mexico, and his J.D. degree from the University of New Mexico School of Law.
Eric Weiner is President of ESW Associates, a boutique corporate education consultancy. Eric advises corporations seeking executive training solutions, educational institutions that provide services, and subject matter experts who serve as program faculty. He holds an MBA from London Business School